Dial a Digger offer a choice of diggers and plant machinery for hire throughout the New Forest, Hampshire, Dorset and Wiltshire, including Poole, Bournemouth, Winchester, Salisbury, Southampton and Portsmouth.
DIGGER HIRE / EXCAVATORS:
Dial-A-Digger offers a cost effective, reliable and local service for the hire of self drive and, if required, operated plant with certified drivers. Our range covers the following plant and equipment in varying sizes; diggers, dumpers, rollers, telehandlers, tractors, plus attachments, ATV's, Cherry Pickers, wood chippers, stump grinders, together with a wide range of trailers for your personal use. Please call our friendly team for any requirements you may have and don't for get to check-put our promotion (see below for details).
One day hire rate
£70.00

KUBOTA DIGGER - Kubota U10

Size: 1.0 ton

Info: Variable size undercarriage allows the KU10 to fit through doorways

Attachments: full set of buckets




Prices quoted are plus delivery, collection, fuel used and VAT

Two day hire rate
£120.00
Three day hire rate
£150.00
Five day (weekly rate)
£190.00

Standard Weekend rate

£110.00
** Long term hire packages available, please ask for details **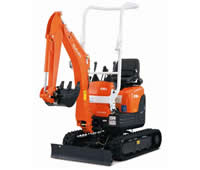 ---
One day hire rate
£70.00
KUBOTA DIGGER - KX017-3

Size: 1.7 ton

Info: A versatile digger suitable for domestic & commercial projects.

Attachments: Full set of buckets




Prices quoted are plus delivery, collection, fuel used and VAT

Two day hire rate
£125.00
Three day hire rate
£160.00
Five day (weekly rate)
£200.00

Standard Weekend rate

£120.00
** Long term hire packages available, please ask for details **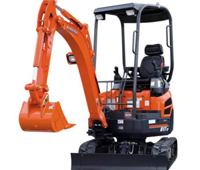 ---
One day hire rate
£85.00
KUBOTA DIGGER - Kubota U27

Size: 2.7 ton

Info: zero tail swing, suitable for bigger projects

Attachments: full set of buckets




Prices quoted are plus delivery, collection, fuel used and VAT

Two day hire rate
£160.00
Three day hire rate
£220.00
Five day (weekly rate)
£290.00

Standard Weekend rate

£150.00
** Long term hire packages available, please ask for details **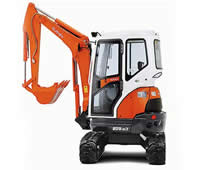 ---
One day hire rate
£n/a
KUBOTA DIGGER - Kubota KX057-4

Size: 5.5 ton

Info: excellent stability, digital dashboard, hydraulic system 'load sensing', automatic speed reduction, air conditioned

Attachments: wide selection available




Prices quoted are plus delivery, collection, fuel used and VAT

Two day hire rate
£n/a
Three day hire rate
£n/a
Five day (weekly rate)
£450.00

Standard Weekend rate

£n/a
** Long term hire packages available, please ask for details **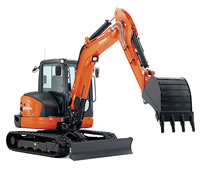 ---
One day hire rate
£n/a
KUBOTA DIGGER - Kubota KX080-4 alpha

Size: 8 ton

Info: safety valave on boom (anti-drop), tank electric refuelling pump, new load sensing system

Attachments: wide selection available




Prices quoted are plus delivery, collection, fuel used and VAT

Two day hire rate
£n/a
Three day hire rate
£n/a
Five day (weekly rate)
£550.00

Standard Weekend rate

£n/a
** Long term hire packages available, please ask for details **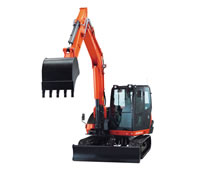 ---
DIESEL FUEL CUBE C/W HAND PUMP (950 Ltr):
One day hire rate
N/A
DIESEL FUEL CUBE C/W HAND PUMP (950 Ltr)

Info: 950 litre Fuel Cubes are an essential requirement for safe storage of diesel on site, recommended to safely transport and store fuel and incorporate a manual built in dispensing pump. 110% bund means they are fully approved for highway transportation and when full they may be lifted by forklift. Wheeled unit with forklift pockets offers excellent portability.




Prices quoted are plus delivery, collection, fuel used and VAT

Two day hire rate
N/A
Three day hire rate
N/A
Five day (weekly rate)
£95.00

Standard Weekend rate

£60.00
** Long term hire packages available, please ask for details **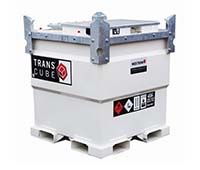 ---
DIGGER / EXCAVATOR ATTACHMENTS:
One day hire rate
£150.00
FERMEC T5 EXCAVATOR FLAIL MOWER

Info: A excavator mounted 1 mtr wide flail mower fitting our 5.7ton excavator (KX057-4). Great clearance capability for grass, bramble and scrub as well as Rhododendron and young woodland.




Prices quoted are plus delivery, collection, fuel used and VAT

Two day hire rate
£250.00
Three day hire rate

£300.00

Five day (weekly rate)
£400.00

Standard Weekend rate

£225.00
** Long term hire packages available, please ask for details **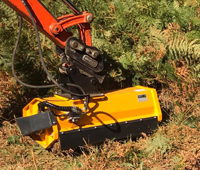 ---
One day hire rate
£65.00
1.5 ton KUBOTA BREAKER ATTACHMENT

Info: available for hire. To fit KX015 1.5 ton digger.




Prices quoted are plus delivery, collection, fuel used and VAT

Two day hire rate
£100.00
Three day hire rate

£120.00

Five day (weekly rate)
£150.00

Standard Weekend rate

£90.00
** Long term hire packages available, please ask for details **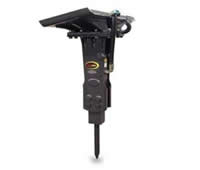 ---
One day hire rate
£75.00
3 ton KUBOTA BREAKER ATTACHMENT

Info: available for hire. To fit U27-4 3 ton digger.




Prices quoted are plus delivery, collection, fuel used and VAT

Two day hire rate
£120.00
Three day hire rate

£140.00

Five day (weekly rate)
£175.00

Standard Weekend rate

£110.00
** Long term hire packages available, please ask for details **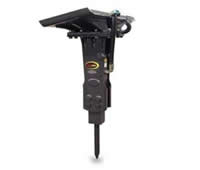 ---
One day hire rate
£65.00
1.5 ton KUBOTA AUGER ATTACHMENT

Info: available for hire, suitable for usage with our KX015 1.5 ton digger.




Prices quoted are plus delivery, collection, fuel used and VAT

Two day hire rate
£100.00
Three day hire rate

£120.00

Five day (weekly rate)
£150.00

Standard Weekend rate

£90.00
** Long term hire packages available, please ask for details **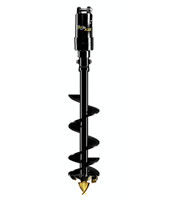 ---
One day hire rate
£75.00
3 ton KUBOTA AUGER ATTACHMENT

Info: available for hire, suitable for usage with our U27-4 3 ton digger.




Prices quoted are plus delivery, collection, fuel used and VAT

Two day hire rate
£120.00
Three day hire rate

£150.00

Five day (weekly rate)
£190.00

Standard Weekend rate

£110.00
** Long term hire packages available, please ask for details **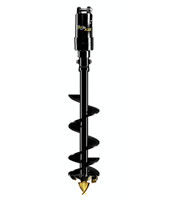 DUMPER HIRE:
One day hire rate
£70.00

LIFTON 850 (HIGH LIFT)

Size: 850 kg

Info: Hi-tip and small, it will go almost anywhere. 4 Wheel drive - Articulated




Prices quoted are plus delivery, collection, fuel used and VAT

Two day hire rate
£95.00
Three day hire rate
£120.00
Five day (weekly rate)
£150.00

Standard Weekend rate

£95.00
** Long term hire packages available, please ask for details **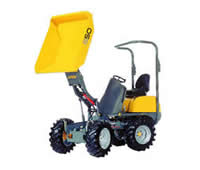 ---
One day hire rate
£70.00

THWAITES 3 TONNE SWIVEL DUMPER

Size: 3.0 ton

info: 3 tonne four wheel drive compact dumper, with Powerswivel skip.




Prices quoted are plus delivery, collection, fuel used and VAT

Two day hire rate
£95.00
Three day hire rate
£120.00
Five day (weekly rate)
£150.00

Standard Weekend rate

£95.00
** Long term hire packages available, please ask for details **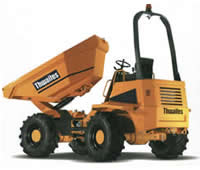 ---
One day hire rate
£n/a

THWAITES 6 TONNE DUMPER

Size: 6.0 ton

info: 6 tonne four wheel drive dumper with Powerswivel skip.




Prices quoted are plus delivery, collection, fuel used and VAT

Two day hire rate
£n/a
Three day hire rate
£n/a
Five day (weekly rate)
£250.00

Standard Weekend rate

£call
** Long term hire packages available, please ask for details **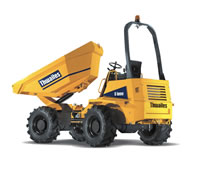 ---
One day hire rate
£70.00

KUBOTA KC70VHD-4 TRACKED DUMPER WITH VARIABLE FRAME

Size: 550 kg
Minimum width: 758mm

Info: With the increased usage of mini excavators there is a requirement to move excavated material, tracked dumpers are ideal partnered with a mini excavator where width of access is a problem.




Prices quoted are plus delivery, collection, fuel used and VAT

Two day hire rate
£95.00
Three day hire rate
£120.00
Five day (weekly rate)
£150.00

Standard Weekend rate

£call
** Long term hire packages available, please ask for details **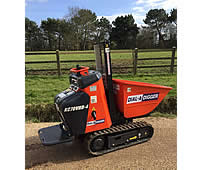 ---
TELEHANDLER HIRE:
One day hire rate
£100.00

WEIDERMANN T4512 TELEHANDLER

Payload: 1250 kg

Info: The compact Weidemann telehandler T4512 offers a unique combination of lifting height, width and machine capacity with a lifting height of 4.5 m




Prices quoted are plus delivery, collection, fuel used and VAT

Two day hire rate
£180.00
Three day hire rate
£250.00
Five day (weekly rate)
£300.00

Standard Weekend rate

£150.00
** Long term hire packages available, please ask for details **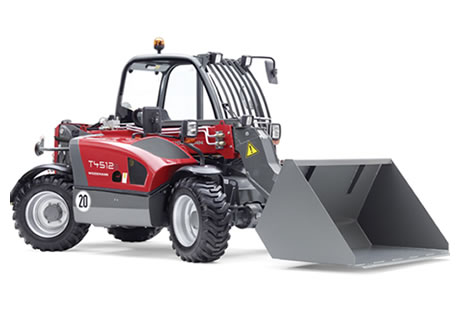 ---
One day hire rate
£175.00

MANITOU T1335 TELEHANDLER

Max. Capacity: :3.5 ton

info: The new telescopic forklifts represent a complete revolution in methods of lifting between up to 11 metres, and offers high performance lifting and loading capability.




Prices quoted are plus delivery, collection, fuel used and VAT

Two day hire rate
£225.00
Three day hire rate
£295.00
Five day (weekly rate)
£395.00

Standard Weekend rate

£n/a
** Long term hire packages available, please ask for details **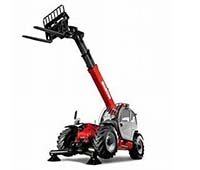 ---
VERSATILE KANGA MACHINERY HIRE:
One day hire rate
£65.00

KANGA LOADER

Info: A versatile loading machine available with the following

Attachments: loader, hole bore, trencher, rotovator, leveller and 4 in 1 bucket

Attachment hire: £20 per day




Prices quoted are plus delivery, collection, fuel used and VAT

Two day hire rate
£130.00
Three day hire rate
£180.00
Five day (weekly rate)
£270.00

Standard Weekend rate

£call
** Long term hire packages available, please ask for details **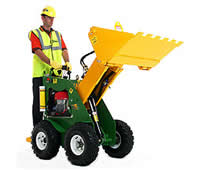 PLATE COMPACTOR & ROLLER HIRE:
One day hire rate
£22.00
PLATE COMPACTOR

Typical usage:

pipeline and trenching, backfilling, footpaths, cycle paths, foundations, garden design, DIY and landscaping.




Prices quoted are plus delivery, collection, fuel used and VAT

Two day hire rate
£28.00
Three day hire rate
£32.00
Five day (weekly rate)
£40.00

Standard Weekend rate

£call
** Long term hire packages available, please ask for details **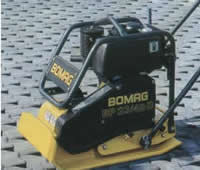 ---
One day hire rate
£80.00
HAMN HD12 VV TWIN DRUM VIBRATING ROLLER

Typical usage:

For highway repairs and reinstatements, leisure, sports ground, footpath and cycle tracks applications.




Prices quoted are plus delivery, collection, fuel used and VAT

Two day hire rate
£120.00
Three day hire rate
£140.00
Five day (weekly rate)
£160.00

Standard Weekend rate

£100.00
** Long term hire packages available, please ask for details **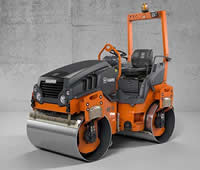 WOODCHIPPER HIRE:
One day hire rate
£100.00
TIMBERWOLF 230 DHB WOOD CHIPPER

info: tow bar transportation, Up to 5" diameter timber, weighs under 750kg

Price includes chipper resharpening fee




Prices quoted are plus delivery, collection, fuel used and VAT

Two day hire rate
£175.00
Three day hire rate
£225.00
Five day (weekly rate)
£325.00

Standard Weekend rate

£175.00
** Long term hire packages available, please ask for details **
---
One day hire rate
£150.00
TIMBERWOLF TW230 VTR WOOD CHIPPER

info:the TW230 VTR incorporates many features that make working in difficult or confined spaces possible.

The TW230VTR has tracks to enable rougher terrain access, width is 812 - 1302mm




Prices quoted are plus delivery, collection, fuel used and VAT

Two day hire rate
£275.00
Three day hire rate
£375.00
Five day (weekly rate)
£495.00

Standard Weekend rate

£250.00
** Long term hire packages available, please ask for details **
FSI ST27 STUMP GRINDER:
One day hire rate
£150.00
STUMP GRINDER

info: Will grind any size stump anywhere!

NB - a heavy usage charge is applicable to the grinding teeth




Prices quoted are plus delivery, collection, fuel used and VAT

Two day hire rate
£300.00
Three day hire rate
£425.00
Five day (weekly rate)
£500.00

Standard Weekend rate

£250.00
** Long term hire packages available, please ask for details **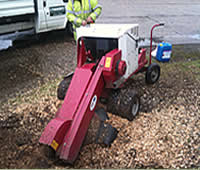 CULTIPACK SEEDER:
One day hire rate
£135.00
CULTIPACK SEEDER

Watch the video >>



Prices quoted are plus delivery, collection, fuel used and VAT

Two day hire rate
£250.00
Three day hire rate
£325.00
Five day (weekly rate)
£450.00

Standard Weekend rate

£225.00
** Long term hire packages available, please ask for details **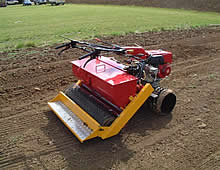 RIDE ON MOWER - KUBOTA G-18 (HI-TIP HYDRAULIC COLLECTOR):
One day hire rate
£100.00
RIDE ON MOWER - KUBOTA G-18

info: 18 horse power, 2 wheel drive.

The Kubota G-18 has the advantage of the hi-tip hydraulic collector for easy transportation and disposal of cuttings.




Prices quoted are plus delivery, collection, fuel used and VAT

Two day hire rate
£175.00
Three day hire rate
£250.00
Five day (weekly rate)
£350.00

Standard Weekend rate

£call
** Long term hire packages available, please ask for details **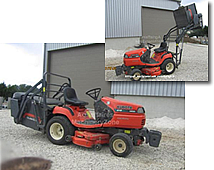 HURRICANE COMBI P4 FLAT SURFACE POWER CLEANER:
One day hire rate
£45.00
HURRICANE COMBI

info:The Hurricane P4 is the most powerful in the range.

Pressure of 2900 PSI, Water Flow (at full pressure) at15 Litres per minute.




Prices quoted are plus delivery, collection, fuel used and VAT

Two day hire rate
£80.00
Three day hire rate
£110.00
Five day (weekly rate)
£160.00

Standard Weekend rate

£call
** Long term hire packages available, please ask for details **
SPEEDY-RAIN 25/50 IRRIGATION TRAVELLING SPRINKLER:
One day hire rate
£100.00
SPEEDY RAIN 25/50 IRRIGATION TRAVELLING SPRINKLER

Info: The machine rewinds the hose while irrigating. It works with a variable inlet pressure from 1,5 bar min. to 6 bar max.




Prices quoted are plus delivery, collection, fuel used and VAT

Two day hire rate
£170.00
Three day hire rate
£225.00
Five day (weekly rate)
£300.00

Standard Weekend rate

£150.00
** Long term hire packages available, please ask for details **